Well, it's that time of year again. When couples cuddle together on the sofa or go out for romantic dinners. When husbands rush around to find flowers and chocolate because they forgot what day it is. When little elementary school children make and sign cute little cards to give to their classmates...Valentine's Day!! The day when everything is red and pink and little cupids show up everywhere.
I personally LOVE Valentine's Day. It may have something to do with the fact that February 14 is Honey's and my anniversary!!! Yes, I guess its a little bit of a cliche but it's true. We confessed our love for each other on this day 11 years ago (and our 1 year wedding anniversary is 3 days later!). But even before this I loved Valentine's Day. I think it's just a very sweet idea for a holiday. I also love the fact that it's a winter holiday. There's nothing cozier than having a nice quiet dinner, a glass of wine, some soft music and snuggling up to the one you love. It's the best.
Since it's Valentine's Day I thought I would get you guys started on a love themed playlist. I wanted to share with you my all time favorite love songs!!!!
1. Donna- Ritchie Valens
Really cute, really sweet, but slightly sad song, written by Valens for his girlfriend. It has a distinctly 50s sound and is one of my favorites. Ritchie and Donna were together 2 years before he died in a plane crash along with The Big Bopper and Buddy Holly
2. Be Careful It's My Heart- Bing Crosby
This song comes from the movie "Holiday Inn". Bing's character, Jim sings this song that he has written to his love interest Linda. Unfortunately while he's singing it Linda starts to dance then is swept up into a lovely pas de deux with Fred Astaire. The song is also sung by Frank Sinatra in other versions.
3. At Last- Etta James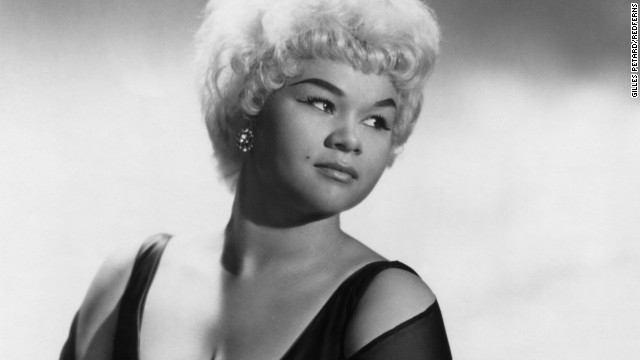 This is the love song to end all love songs. EVERYONE is familiar with the song and it's meaningful lyrics. Its been the wedding song for millions of couples and Honey and I danced to it in our living room last Valentines Day. Etta's voice is amazing and unforgettable in this song. If you don't have this in your possession you should get it!!!
4. I Only Have Eyes for You- Billie Holiday
This song has many different versions by many different singers but Billie Holiday's version is perfection
5. Them There Eyes- Billie Holiday
Another from Billy! This one is so fun! Makes me want to dance!!
6. Someone to Watch Over Me- Ella Fitzgerald
Such a beautiful song. It just makes me think of a big band with beautiful Ella in a stunning floor length gown singing her heart out. UGH!! To have been apart of all of that back then!!! (Amy Winehouse has an amazing cover to this song. It's worth a listen if you are an Amy fan. I personally adore her. Even with all of her unfortunate circumstances)
And last but certainly not least
7. That's All- Nat King Cole
This song always gets me all lovey dovey and doe-eyed. The lyrics are perfect. Simple, sweet and perfect. Nat King Cole's velvety voice just reels you in...sigh
I can only give you love that lasts forever
And a promise to be near each time you call
And the only heart I own
For you and you alone
That's all, that's all
I can only give you country walks in springtime
And a hand to hold when leaves begin to fall
And a love whose burning light
Will warm the winter night
That's all, that's all
There are those, I am sure, that have told you
They would give you the world for a toy
All I have are these arms to enfold you
And a love time can never destroy
If you're wondering what I'm asking in return, dear
You'll be glad to know that my demands are small
Say it's me that you'll adore
For now and ever more
That's all, that's all
I could go on and on with my favorite songs but these should be enough to get you started on your romantic playlist.
I hope your Valentines Day is filled with love and sweet memories
Until next time dearies